Leak Repair with Polyurethane Injection Resins.
Water leaking through cracks in concrete can be sealed by pressure injection of our polyurethane resins. The resins will react with water and expand to form a water tight gasket inside or behind the structure.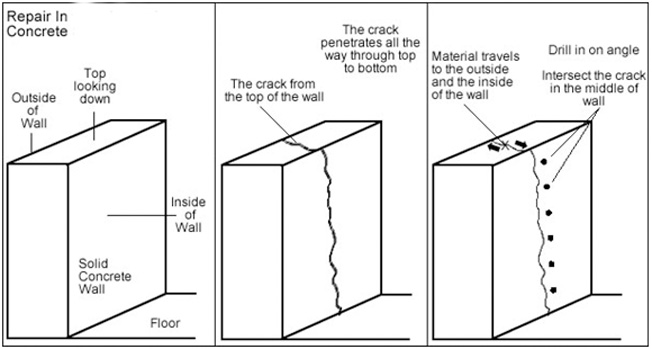 Hairline Cracks
Hairline cracks are defined as cracks less than 1.5mm. These cracks can be the most difficult to seal as it is tough to force a thick resin into a tight crack. For this procedure, we have developed "Comtech Pure LV". It's a thin resin that forms a tough, flexible, and water tight seal when it comes into contact with water. It forms a tenacious bond to wet concrete and is quite frankly the best injection product on the market for sealing leaks.
Wide Cracks and Joints
Joints are easy to seal if you know the proper procedures. Comtech Pure LV, while great in tight cracks, works equally as well in sealing wide joints.
Gushing Leaks
These can be especially challenging because large quantities of water can wash out the resin before it sets. That is why we have developed a products and technique to tackle gushers. Comtech Seal PU1 is explosively expansive to shut down gushing leaks in seconds. It can expand up to 35 times its original volume, and it forms a rigid foam. Try injecting these materials behind the structure for best results.
Dry Cracks
Some cracks are wet after a rain but dry at other times. You can still repair these cracks with Comtech Pure LV. Just make sure there is enough moisture by injecting water before or at the same time as the resin.
When structural strengthening is needed it is recommended to use Epoxy injection resin "Comtech Bond EP2".
Plug mortar
Comtech Plug HC is a great way to stop leaks temporarily prior to injecting with PU resins. It is available in three set times, from one minute to 10 minutes. We don't recommend plug mortar as a permanent solution because the water pressure will be working against this negative side band-aid continuously. The best seal is an internal seal (inside the crack) or a positive side seal (on the back side of the structure so the water pressure pushes the seal tight against the concrete or masonry) using PU resins.